5 Factors to Consider When Deciding on A Job Relocation
Posted by Dave Van Nus on Friday, June 11, 2021 at 8:57 AM
By Dave Van Nus / June 11, 2021
Comment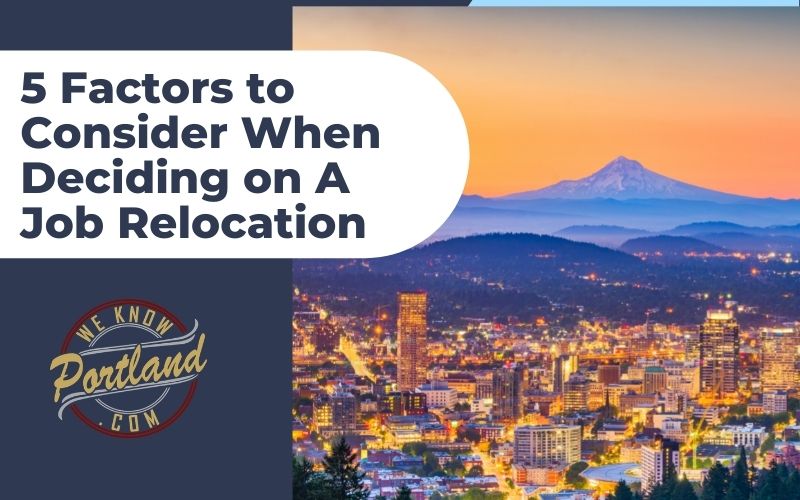 Planning a move? Here are 5 Factors to Consider When Deciding on A Job Relocation (Commute, Schools, And Area Amenities)
At some point in life, you might receive a job offer or a promotion that will require you to do a job relocation. Well, the request may look alluring, but, in the end, you will have yourself to blame for making the worst life decision. On the other hand, sometimes staying back will make you anguish for a missed billion-dollar opportunity. To avoid the dilemma of staying or taking the job offer, we have prepared you some factors to consider before you make your life-worth decision.
1. Consider the weather
Different states or cities have different weather patterns. If you decide to move, you should be aware that you have to invest in clothing and gear to fit your new home. Make sure you consult trusted sources for the weather condition of your potential new place. You may also ask your friends or family members about their weather experiences in a new home so that you can be sufficiently prepared.
If Portland is your destination, you're in for a treat. Not nearly as much rain as the Seattle area gets and lots of sunshine in the summer, plus most homes have AC so if you do need to cool off, chances are you don't have to go very far. Plus, the snowy mountains or sandy and rocky beaches of the Pacific are not more than 1-2 hours away. I mean, you can't get much better than that!
2. The new cost of living
Moving to a new place will mean lifestyle changes. This is brought about by changes in taxes and rent or the cost of buying homes. If you had a pay increase, the pay increase would not make a difference if your living expense also increases. To compute the cost of living, you will have to look at various factors, including:
Rent costs
Food costs
Transportation and other relevant costs
Health Care
Daily Amenities
While Portland is not the cheapest place to live in the states, it's not as expensive as many major metro areas and it all depends on where you are moving from. Start with this cost of living calculator to run the numbers based on your income.
3. Amenities
Important questions to ask regarding this factor:
Entertainment
Daily Services and Needs
Schools
Recreation
This is what is going to guide you before making a firm decision to move or to stay. Check if your new area offers the experiences you desire to enjoy: bicycling, picnicking, rollerblading, and much more of your taste and preference. Are you a foodie? Portland has you covered. From amazing coffee and doughnuts to world-class dining and eclectic bars, Portland is THE mecca for foodies on the west coast.
And it doesn't stop there. Outdoorsy? We already told you that you can go from the ocean to the mountains in less than a couple hours and the trails, nature, preserves, and parks are almost limitless in Portland. (Check out Forest Park!)
Related: How to Relocate to a Big City After Living in a Small City
4. Traffic
This will depend on where you choose to live in your new home. It will affect how you commute to and from work. So, plan well, factoring in your commuting costs against other factors. Coming from the south like in Tualatin and Tigard the commute can be rough depending on the time of day. From the west like Beaverton, it all depends on the route. Portland has great transportation though like the MAX light rail and TriMet serving the Multnomah, Clackamas, and Washington County.
5. Schools
If you have school-aged children, it is your responsibility as a parent to ensure that the new area provides the high-quality education they need. Make sure you do your homework on academic requirements and needs in your target location. Portland has a variety of school options both public and private. Check with the zones for specific schools or research the best schools in Portland.
Final thought
Before deciding on job relocation, it is always prudent to do a cost analysis and deep research of your potential new place in life. By doing research, you will come up with a solid conclusion of whether to hold up or to move. Another option is to consider renting before you buy in an area to see if the neighborhood and location really suit you and your needs.

Need more help or have further questions? I'd love to chat! Contact me below or just call. We know Portland and all the surrounding neighborhoods and towns and can help you make a wise decision on your next relocation.
Previous Post: Why is Portland Called PDX?