Best Portland Neighborhoods for Families
Posted by Mike Van Nus on Friday, November 10, 2023 at 5:48:17 PM
By Mike Van Nus / November 10, 2023
Comment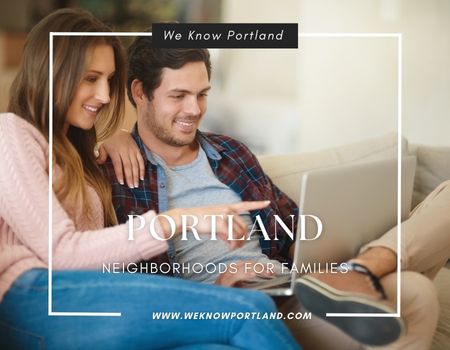 When you set out to find your new home in Portland, the neighborhood you choose is almost equally important to the home itself. If you are looking for a new home in Portland for your family, we can help. Portland offers several neighborhoods that are popular among families, each with its own unique characteristics and amenities.
We know factors such as schools, parks, safety, and community atmosphere come into play as you make your decision. Contact us any time, and consider this list of the best neighborhoods for families in Portland.
Hillsdale
Hillsdale is known for its family-friendly atmosphere, excellent schools, and proximity to parks. It offers a suburban feel while being close to downtown Portland just 12 minutes away. Families who live in Hillsdale appreciate the community-oriented vibe and the diverse list of local amenities.
Eastmoreland
Eastmoreland is renowned for its beautiful, tree-lined streets and classic homes. It's a well-established neighborhood with top-rated schools and parks. This community is a top rated neighborhood that should definitely be on your list.
The Reed College campus is also nearby, providing educational and recreational opportunities that are perfect if you plan to go back to school or have children who will soon graduate and be looking for higher education opportunities while living at home.
Beaumont-Wilshire
Beaumont-Wilshire is a charming neighborhood with a mix of architectural styles, and has made many "best of" lists of Portland communities. Families are drawn to its walkable streets, excellent schools, and the vibrant Beaumont Village area with shops and restaurants.
Forest Heights
Situated in the West Hills, Forest Heights offers stunning views of the surrounding area. The neighborhood is known for its good schools, parks, and well-maintained homes. It provides a suburban setting while still being close to the city.
Raleigh Hills
Raleigh Hills is a family-friendly neighborhood with good schools and a mix of housing options. It's conveniently located for commuting to downtown Portland and offers parks and recreational facilities. It has also been rated as one of the top places to retire in Portland, with a peaceful atmosphere that is conveniently located in the city.
Alameda
Alameda is characterized by its historic homes, tree-lined streets, and strong sense of community. Families appreciate the neighborhood's proximity to parks, schools, and the lively Alberta Arts District. Alameda offers that classic Portland charm that allows you to take full advantage of the PNW culture as you raise your family.
Sellwood-Moreland
Sellwood-Moreland is known for its family-friendly parks, including Oaks Amusement Park. The neighborhood has a mix of housing options, good schools, and a welcoming community feel. The Sellwood neighborhood, in particular, has a quaint commercial area with shops and restaurants.
Laurelhurst
Laurelhurst is a historic neighborhood with a strong community spirit. Families enjoy the Laurelhurst Park, a major city park with playgrounds, a pond, and walking paths. The neighborhood is also close to schools and has a range of architectural styles so you can find that unique home with its own distinct character.
St. Johns
St. Johns is a diverse and family-friendly neighborhood located in North Portland. It has a strong sense of community, a charming downtown area, and easy access to Cathedral Park along the Willamette River.
Tualatin
Tualatin, although not within the city limits, is a family-friendly suburb south of Portland. It offers good schools, parks, and a range of housing options. The Tualatin Commons area provides shopping, dining, and community events. If you are looking for somewhere just outside of Portland that still offers the Pacific Northwest charm and close enough proximity to commute into the city, check out Tualatin.
Ready to learn more about homes for sale in Portland? Contact us any time.