Don't Let These 7 Things Hurt Your Property Value in Portland
Posted by Mike Van Nus on Friday, November 17, 2023 at 12:56 PM
By Mike Van Nus / November 17, 2023
Comment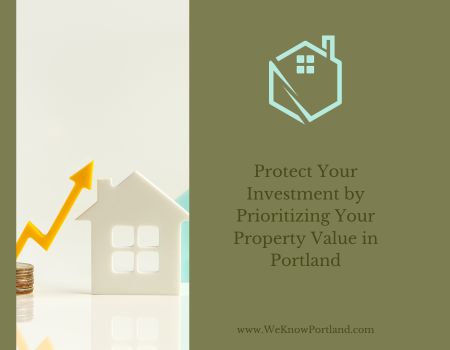 Owning a home is a significant investment, and maintaining or increasing its value is a common goal for homeowners in the Portland metro area. While the real estate market can be influenced by various factors beyond your individual control, homeowners should be aware of elements that may negatively impact their property values, especially those they can control.
Whether you are planning to sell your home in Portland soon, or just want to make sure you are protecting your investment, watch out for these 7 things that can hurt your property value. If you want to learn more about selling a home in Portland, contact us any time.
1. DIY projects gone wrong, or renovations not up to code
While it is true that an updated home is going to attract a higher price, not all updates are equal. Homes with DIY projects gone wrong or renovations that were completed without permits or not according to building codes will actually suffer because of the renovations.
If you are going to update your home with the idea of increasing its value, make sure that you don't overestimate your DIY abilities and be careful to only choose contractors who will do the work correctly.
2. Lack of curb appeal
Curb appeals matters anywhere you go, and Portland it no exception. If your home is beautifully maintained inside but makes a poor first impression, your selling process will be negatively affected.
Take a look at the exterior of your home and determine whether anything needs to be repaired or maintained. Consider things like:
Cracked or damaged driveway, walkway, or porch
Damaged mailbox or house numbers
Peeling paint
Unattractive landscaping or abundant weeds
We can help you look at your home's curb appeal from a buyer's perspective to point out things that might be worth addressing before listing your home.
3. Poor maintenance
Your buyers want to see a home that has been well-cared for, and are going to offer less it the home looks like it has not been well-maintained. Basic upkeep, like cleaning regularly, chaining your HVAC filters, and keeping up with minor repairs will actually preserve your property value in the long run.
4. Whole house carpeting
Carpeting, even in good condition, is usually not a buyer's first choice. If your home has carpeting in the majority of it, consider updating to a hard flooring like LVP or hard wood to attract a higher purchase price and stand out from other similar homes.
5. Clutter and odors
It may surprise you, but strong odors and excessive clutter can actually diminish the potential sales price of your home quite significantly. Before listing your home in Portland, make sure you have thoroughly cleaned and decluttered, and even consider hiring a professional cleaning service.
6. Looming repairs
If you own an older home, chances are there are some upcoming repairs that need to be done, or even some that you have been procrastinating and need to be done. This might include the roof, the HVAC system, the hot water heater, or other major features in the home.
In order to get the best possible price for your home, you have to be realistic about the condition it is in and address any major issues before they are revealed as a surprise at the home inspection.
7. Outdated kitchens and bathrooms
Most buyers in Portland are excited to see updated kitchens and bathrooms. While you can certainly sell your home without renovating these parts of it, you will likely be able to increase your property value significantly if you do.
If you decide to renovate the kitchen and/or bathrooms in the home, opt for timeless finishes and an aesthetic that will appeal to a broad range of buyers for the best ROI.
To learn more about setting yourself up for success in selling your home in Portland, contact us any time.