How to Attract the Best Tenants to Your Portland Income Property
Posted by Dave Van Nus on Friday, October 27, 2023 at 7:46 AM
By Dave Van Nus / October 27, 2023
Comment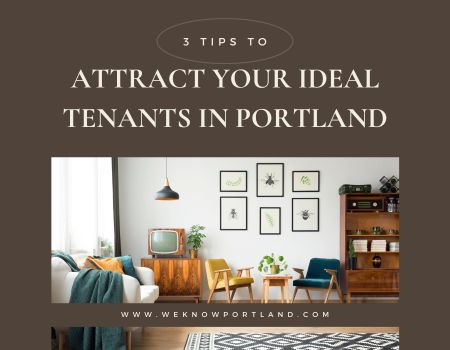 Buying a rental property in Portland is a smart strategy to begin building passive income and acquiring wealth generating assets. One of the keys to success in commercial real estate is attracting the right tenants. You have probably heard the cautionary tales from landlords whose tenants wouldn't pay on time, trashed the property, or wouldn't leave when they were supposed to.
How can you minimize the risks of owning a rental property in Portland and attract the high quality and reliable tenants you want? Start with these tips.
Buy the Right Kind of Property
It begins with buying the right kind of property. If your ideal tenant is someone who is responsible and going to pay on time, consider that type of home that person would be looking for. In many cases, it's a single family home in a great Portland neighborhood.
If buying a single family home isn't in your budget, you might consider house hacking instead. Buying a duplex in Portland can give you the opportunity to live in one unit while renting out the other. In many cases, this will attract tenants who know they are going to pay on time and follow the lease agreement, knowing their landlord will be living on site. Check out this post to learn more about the benefits of owning a Portland duplex.
Understand What Your Ideal Tenant is Looking For
As you consider your ideal tenant, imagine the features they want to see. Many of the best potential tenants are going to be searching for the same list of features in their rental home. Beyond the type of property you buy, consider these home features that will attract your ideal tenant and justify the price you want:
Updated kitchens and bathrooms
Smart home features, including security systems
Landscaping services included
Home office space
Pets welcome, even with an additional security deposit
Walkability to Portland schools, grocery stores, and coffee shops
Garage parking
Kid-friendly and pet-friendly safety features, like fenced in yards
One of the keys to finding a home that will attract your ideal tenant is the real estate professionals you choose. You need a team that understands current rental demand and what Portland residents are prioritizing in their homes. We can help you determine what is going to be a successful investment property that the best tenants on the market will be competing to rent. Contact us any time to learn more about how we can help you succeed in your Portland real estate goals.
The Golden Rule Applied to Rental Properties
One of the best things you can do to enjoy long term success in commercial real estate is apply the Golden Rule to your property management strategy. In other words, provide your tenants with the experience you would want to have when renting a home.
Portland has a thriving rental market where you can reasonably expect to have a high level of demand for your property, but in order to attract and keep the best tenants in the market (which translates into the better financial position for you), you need to be one of the best landlords on the market.
Some of the things you can do include:
Respond quickly to all communication from the tenants.
Commit to keeping the property in great shape, handling regular maintenance on time and repairing or replacing anything that needs it without delay.
Being realistic about how much time you can invest into property management, and hiring a property management company if needed.
Clearly communicating all expectations in the lease agreement, avoiding any hidden surprises for your tenants.
Provide perks and gifts of appreciation for your tenants, like a holiday gift or gift card when they sign a second lease.
Investing in a Portland income property is most likely to be a success for you if you keep expert tips in mind and work with local experts in the process. Contact us any time to learn more about how we can partner together to help you reach your real estate goals.