Renting or Buying in Portland Right Now – Which is Smarter?
Posted by Dave Van Nus on Tuesday, July 13, 2021 at 11:29 AM
By Dave Van Nus / July 13, 2021
Comment
Financial health, local markets, future plans, current budget, all factor into whether renting or buying is the smarter move right now in the Portland real estate market. The Portland market is going crazy and homes are flying off the market, almost faster than they can be listed. But does that mean it's great for sellers and not for buyers? What about the rental market? Investments? Are you scared to sell your home because you know you have to buy? All of these are factors weighing on the minds of folks in Portland, and it's important to weigh the costs, the options, and really figure out what works best for you now and in the future.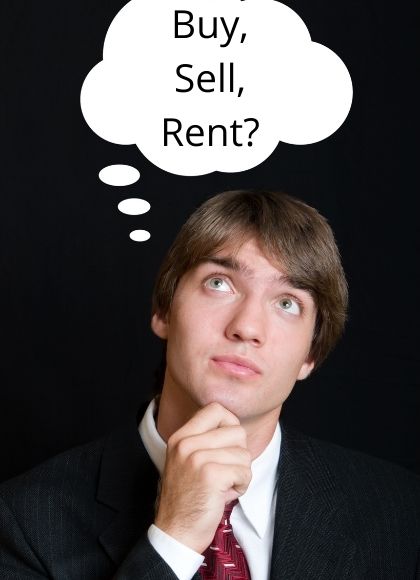 First off, do you own a home?
If you currently own a home and you are looking to buy another home, you need to sell first, unless you plan on keeping that home as an investment. If that's the case, there's an entirely new set of issues and concerns to deal with; will you need to take on a second mortgage? Will you have the down payment necessary for another home? If you're not planning on keeping the home but need to sell (or you want to sell because it's such a great market) you may be fearful of buying wondering if you'll be stuck without a home or if the competition is so tough that you won't even be able to find one and compete.
A lot of folks are considering renting until they find a home they really want or a home in their price range. Selling might be great, but if you have to turn around and buy, you may not be in any better position than all the other buyers out there. However, one thing you probably have going for you is a larger down payment. First-time homebuyers may lack the necessary 20% or more needed to secure a new home purchase.
If you are buying after renting, the down payment and supplying enough earnest money to compete with other offers, especially cash offers may be tricky, although not impossible. Price isn't everything when it comes to sellers. Sellers and homeowners also need to look at the terms to the offer. If the price is great but the terms are less than desirable, the seller may choose terms to overprice and this is something that a qualified and experienced buyer's agent can help negotiate.
Related: The #1 Reason to List Your House
Secondly, how are your current finances?
More than simply whether you can afford to own a house or not, you'll need to think beyond housing expenses. Financial advisors suggest no more than about 30% of your income should go towards housing expenses including property taxes, principal and interest, mortgage insurance if applicable, and homeowners insurance. If your finances can tackle this type of monthly payment, it'll leave quite a bit left over for incidentals, home maintenance, and repair, or other expenses.
You also want to think long-term. If you're planning on being in the home at least five years, now is a great time to consider buying. Chances are the housing market will continue to go up even if there are slips from time to time, the general trajectory is a good one for those that own real estate. However, if you're planning on moving within the next 1 to 2 years, buying now may not be a smart financial decision. But, if you plan on moving in the next couple of years and you own a home right now, selling now and then renting for those two years may be more beneficial financially.
More: Why You Shouldn't Sell By Yourself
Don't let extenuating be your judge.
The current pandemic, economic complications, the pressure to buy a house or to sell may all be weighing heavily on your mind but try not to use those decisions to make knee-jerk reactions now. Considering how many years maybe you should hold onto a home or rent before buying can be the smarter option. There are plenty of pros and cons to owning versus renting, so let's delve into a few of those.
Pros and cons to owning a house.
The advantage to owning a home means you probably have more space, more freedom, and it's an investment into your future. You'll likely gain equity over the years and then you can convert that equity into a down payment on a bigger house, financial needs, or simply paying off the home sooner.
The disadvantage to owning a home is that you are responsible for all the home maintenance costs, property taxes, and you can tend to accumulate a lot more "stuff" than if you were simply renting and knew that you needed to move soon.
The pros and cons to renting.
Basically, it's the opposite of all of those, if you hadn't figured out by now. You have a chance to get up and move anytime you want subject to a lease agreement, but you are paying someone else's mortgage. You don't need to worry about home maintenance costs to repair, but you may also not have the freedom as you would if you are a homeowner.
Choosing whether to rent, buy, sell or hang onto a property is run by multiple variables but if you have more questions and need to run the numbers, feel free to contact our office at any time. Our agents work for you, not necessarily what's in the best interests of our bottom dollar. If it's more beneficial to sell and rent, buy and hang onto, or upgrade and refinance is all up to you and your future goals. Let's help clarify some of those goals and get you moving in the right direction.